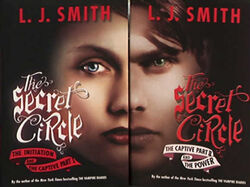 The Secret Circle is a fictional novel series created by L. J. Smith that revolves around twelve teenage witches that form an infamous coven known as "The Secret Circle".
Series Synopsis
Edit
Cassie Blake is anything but the normal new kid and when she moves to New Salem, she finds herself drawn to the mysterious but alluring in-crowd. As she becomes a part of the Secret Circle, the coven of witches that has ruled New Salem for centuries, she finds herself constantly put to the test. Will Cassie be able to keep everyone safe or will the power of dark inner forces overcome her?
The Initiation
Edit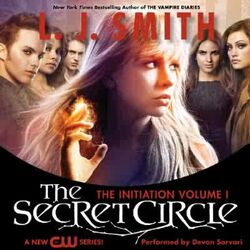 Main article: The Initiation
Shy, sixteen-year-old Cassie falls in love with the mysterious Adam before moving to New Salem, thinking she'll never see him again. But as it turns out, Adam is there, too, at a high school where a strange elite rule. Beautiful fair-haired Diana, whom Cassie learns to love as a sister; voluptuous dark Faye, who wants to turn Cassie into her puppet. The greatest surprise: Cassie, like the other elite boys and girls, is a witch! And then Cassie discovers that Adam is actually the boyfriend of gentle Diana, now her best friend and the leader of the coven!
The Captive
Edit
Main article: The Captive
Adam and Cassie have sworn not to love each other for the sake of their beloved leader Diana. But Faye has caught them in their one embrace. Now she uses it to blackmail Cassie, forcing Cassie to lie to Diana and to dig up the strange crystal skull that gives them all such dangerous visions. Meanwhile, students are being murdered, and the witches are under suspicion. And Faye wants from Cassie the ultimate betrayal: her vote for Faye as coven leader.
The Power
Edit
Main article: The Power
Faye rules the Circle, while Diana reels from Cassie's apparent treachery. Cassie and Adam are drawn more strongly together than ever. A new principal appears who seems to know all the Circle's secrets and is dedicated to persecuting them. Cassie, no longer the shy girl she was only a few months ago, takes charge in solving the murders, the mystery of the crystal skull, and the true meaning of the Secret Circle. Her reward is her dream come true.
External Links
Edit